AMD Ryzen 5 3600 Processor
AMD Ryzen 5 3600 Processor
3.6 GHz (up to 4.2 GHz)
Socket AM4
32MB Cache
Six-Core
65W.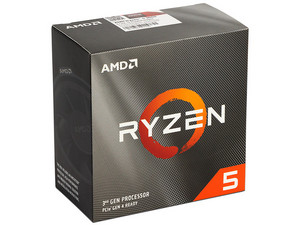 AMD Ryzen™ 5 Desktop Processors
Everyone deserves a powerful processor. Unrivaled features and smooth performance have finally become the standard of every gamer and artist.
AMD Ryzen™ 5 for streaming
Simultaneous game and capture from one powerful system
A revolutionary new platform, ready for Ryzen 3000
Designed for gamers, creators, and anyone else who needs outstanding performance, maximized bandwidth, and blazing speed.
We set high performance standards
AMD's high-performance x86 "Zen 2" core architecture enables 3rd Gen Ryzen™ processors to deliver the best multithreading performance in mainstream desktops. Players and creators alike get the performance they need to be successful at what they do.
Specifications
PROCESSOR SPECIFICATIONS
Brand: AMD
Line: Ryzen 5
Model: 3600
Generation: Third generation
Speed: 3.6GHz (up to 4.2GHz)
L2 cache: 3MB
L3 cache: 32MB
Socket: socket AM4
Microarchitecture: Zen 2
Cores: 6 cores
Integrated Graphics: does not include
Manufacturing technology: 7nm FinFET
Support 64 bit: YES
Hyper-threading: No
Turbo boost: No
Virtualization Technology: YES
Hyper transport: No
TDP 65W
---