AMD Ryzen 7 5800X Processor
AMD Ryzen 7 5800X Processor
3.8GHz (up to 4.7GHz)
Socket AM4
Octa Core
105W.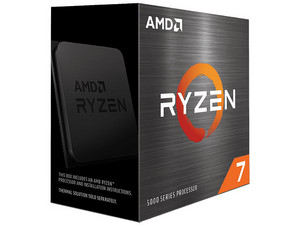 The processor that enables an elite gaming experience
Eight cores optimized for high FPS gaming computers.
AMD Ryzen™ 5000 Series Processors are ready for the next generation of demanding gaming, delivering a uniquely immersive experience and mastering all multi-process tasks such as 3D or video rendering and software compilation.
Design faster. Process faster. Iterate faster. Create more and faster with AMD Ryzen™ processors.
The world's fastest processor core for the world's fastest gaming processors.
Specifications
PROCESSOR SPECIFICATIONS
Brand: AMD
Line: Ryzen 7
Model: 5800X
Generation: Fifth generation
Speed: 3.8GHz (up to 4.7GHz)
L2 cache: 4MB
L3 cache: 32MB
Socket: socket AM4
microarchitecture: Zen 3
cores: 8 cores
Integrated Graphics: does not include
Manufacturing technology: 7nm FinFET
Support 64 bit: YES
hyper-threading: No
turbo boost: No
Virtualization Technology: YES
hyper transport: No
TDP 105W
---