AMD Ryzen 9 5950X Processor
AMD Ryzen 9 5950X Processor
3.4GHz (up to 4.9GHz)
Socket AM4
16 Cores with 32 Threads
105W.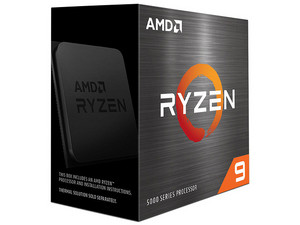 The fastest in the game
They offer the fastest graphics you can find in a desktop processor, but you can also combine them with an external graphics card to accelerate gaming performance.
State-of-the-art technologies
They feature a full suite of technologies designed to elevate your PC's processing power, including Precision Boost 2, Precision Boost Overdrive, PCIe® 4.0 (on select processors), and Resizable BAR.
Arm your system with confidence
Not only are these processors ready to work with 500 series and some 4009 series motherboards with a simple BIOS update, they can also be tuned and optimized with Ryzen™ Master and AMD StoreMI.
7nm "Zen 3" architecture
The world's fastest processor core for the world's fastest gaming processors.
Specifications
PROCESSOR SPECIFICATIONS
Brand: AMD
Line: Ryzen 9
Model: 5950X
Generation: Fifth generation
Speed: 3.4GHz (up to 4.9GHz)
L2 cache: 8MB
L3 cache: 64MB
Socket: Socket AM4
Microarchitecture: Zen 3
Cores: 16 cores
Integrated Graphics: Does not include
Manufacturing technology: 7nm
Support 64 bit: YES
Hyper-threading: No
Turbo boost: No
Virtualization Technology: No
Hyper transport: No
TDP: 105W
---